A person-centered healthcare model, CaringInfo, a program of the National Hospice and Palliative Care Organization, provides free resources to help people make decisions about end-of-life care and services before a crisis. As the leading organization representing hospice and palliative care providers, NHPCO works to expand access to a proven person-centered model for healthcare—one that provides patients and their loved ones with comfort, peace, and dignity during life's most intimate and vulnerable experiences.
Learn more

Go Wish Cards The cards help you find words to talk about what is important if you were to be living a life that may be shortened by serious illness. Playing the game with your relatives or best friends can help you learn how you can best comfort your loved ones when they need you most. Coda empowers easier, early end-of-life conversation enabling you to Take Responsibility; Choose our Own Way and Embrace Life.
The Coda Alliance is dedicated to helping you comfortably deal with one of life's most difficult situations-  Starting your end-of-life conversation.
Learn more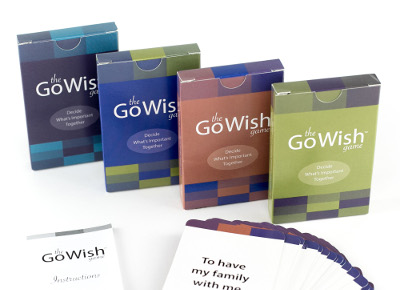 Reimagine End of Life is a community-wide exploration of death and celebration of life through creativity and conversation. Drawing on the arts, spirituality, healthcare, and design, we spark experiences and festivals that break down taboos and bring diverse communities together in wonder, preparation, and remembrance.
Learn more

The Art of Dying Well by Katy Butler is about living as well as possible for as long as possible and adapting successfully to change. Packed with extraordinarily helpful insights and inspiring true stories, award-winning journalist and prominent end-of-life speaker Katy Butler shows how to thrive in later life (even when coping with a chronic medical condition), how to get the best from our health system, and how to make your own "good death" more likely. This handbook of step by step preparations—practical, communal, physical, and sometimes spiritual-will help you make the most of your remaining time, be it decades, years, or months.
Butler explains how to successfully age in place, why to pick a younger doctor and how to have an honest conversation with her, when not to call 911, and how to make your death a sacred rite of passage rather than a medical event.
This down-to-earth manual for living, aging, and dying with meaning and even joy is based on Butler's own experience caring for aging parents, as well as hundreds of interviews with people who have successfully navigated a fragmented health system and helped their loved ones have good deaths. It also draws on interviews with nationally recognized experts in family medicine, palliative care, geriatrics, oncology, hospice, and other medical specialties. Inspired by the medieval death manual Ars Moriendi, or the Art of Dying, The Art of Dying Well is the definitive update for our modern age, and illuminates the path to a better end of life.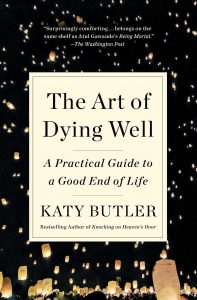 Facing Death and Finding Hope: A Guide To The Emotional and Spiritual Care Of The Dying   by Christine Longaker
Christine Longaker's experience with death and care of the dying began in 1976 when her husband was diagnosed with acute leukemia at the age of twenty-four. Since his death, she has devoted her life to ease the suffering of those facing death. In Facing Death and Finding Hope, she clearly and compassionately identifies the typical fears and struggles experienced by the dying and their families. The core of this book is presented in "Four Tasks of Living and Dying," using the Tibetan Buddhist perspective on death to provide a new framework of meaning. A book of great depth and grace, it is destined to become a classic in the literature on death and dying.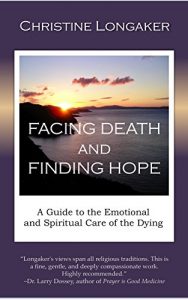 Five Invitations by Frank Ostaseski 
is an exhilarating meditation on the meaning of life and how maintaining an ever-present consciousness of death can bring us closer to our truest selves.  The Five Invitations show us how to wake up fully to our lives. They can be understood as best practices for anyone navigating a life transition, coping with loss or serious illness or a personal crisis; they guide us toward appreciating life's preciousness. Weaving together pragmatic tools, real life stories and ancient wisdom, Frank helps us discover how an awareness of death can be a valuable companion on the road to living well, forging a rich and meaningful life free of regret.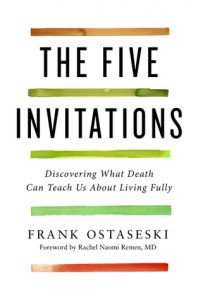 A Beginner's Guide to the End:  Practical Advice for Living Life and Facing Death by hospice physician B.J. Miller and journalist and caregiver Shoshana Berger.
"There is nothing wrong with you for dying," write the authors. "Our ultimate purpose here isn't so much to help you die as it is to free up as much life as possible until you do."   Theirs is a clear-eyed and big-hearted action plan for approaching the end of life, written to help readers feel more in control of an experience that so often seems anything but controllable. Their book offers everything from step-by-step instructions for how to do your paperwork and navigate the healthcare system to answers to questions you might be afraid to ask your doctor, like whether or not sex is still okay when you're sick. Get advice for how to break the news to your employer, whether to share old secrets with your family, how to face friends who might not be as empathetic as you'd hoped, and how to talk to your children about your will. (Don't worry: if anyone gets snippy, it'll likely be their spouses, not them.) There are also lessons for survivors, like how to shut down a loved one's social media accounts, clean out the house, and write a great eulogy.